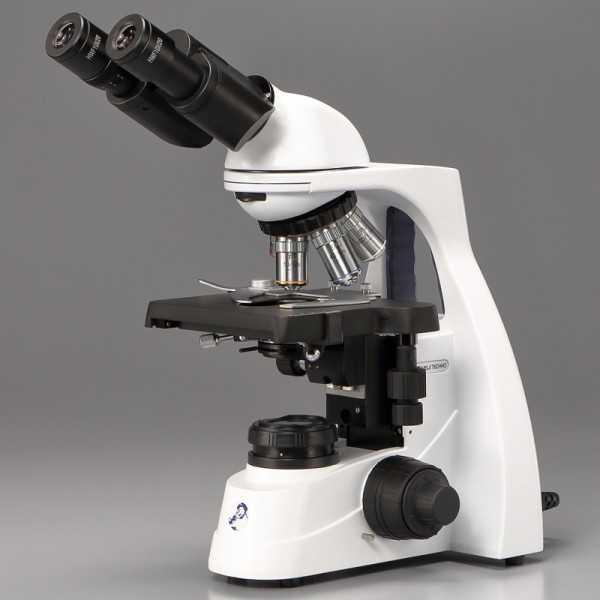 Top Meiji Microscopes for Researchers
Meiji Techno is the third-largest manufacturer of optical microscopes in Japan. Originally known as Azuma Optics, it quickly established a reputation for high quality and fast delivery. In 1975, the company reformed into Meiji Techno and has been delivering excellent products ever since! Here are some of the top Meiji microscopes for researchers!
Meiji MT-420 University Laboratory Microscope
The Meiji MT-420 is a perfect microscope for college-level researchers. This model is built with paired HWF 10x/20mm F.O.V. 23.3mm eyepiece for easy viewing, and the rugged, cast metal frame can handle a lot of wear and tear. It has powerful illumination capabilities as well: a 3W intensity adjustable LED illumination with internal power supply/charger keeps your images clear and bright, and there are even rechargeable batteries is optional for cordless operation. The Meiji MT-420 is also great for new researchers as it allows for coaxial coarse and 200 µm fine adjustments with a "slip-clutch" system protects against over-focusing.
Meiji EMZ-5TRD + MA502 + P
The EMZ-5TRD body offers detent click-stops and delivers sharp, high-contrast images and an excellent zoom range of 6.5:1 that provides exceptionally high resolution images all throughout the zoom range. The EMZ-5TRD employs Greenough optics, for improved image flatness and contrast. As a result, images are brighter and more distinct even at the periphery of the field of view. With the large zoom range, the EMZ-5TRD offers high resolution observation in precision-oriented semi-conductor, medical device and routine inspection. In addition to its compact design and versatility, a wide variety of auxiliary lenses and stands are available to allow the user to customize their desired working distance to adapt to almost any application.
The P stand is Meiji Techno America's basic pole stand with "F" focusing holder mounted on a plain base. It accepts our EMZ, EMT and EMF stereo microscope bodies. Supplied with a 94.5mm diameter reversible black and white stage plate with a locking pin and two stainless steel stage clips and a 20mm diameter vertical pole. The P stand's compact design allows users to maximize their work area, so that operation in limited space becomes possible. Since there is no built in illumination, it allows the end-user to select from a variety of incident light options from an LED ring light to a dual arm fiber optic system.
Meiji MT5300LV Veterinary Biological Microscope
Meiji Techno America's MT5200V & MT5300V Veterinary Series is a preconfigured compound biological series catered to the Veterinary market. The Veterinary series is a useful tool for any clinical practice. Many Veterinary clinics have in house laboratory microscopes. If you are a starting Veterinarian and in search of the most practical laboratory microscope with a wider field of view and smooth operating mechanical stage with a full suite of Infinity objectives which includes Planachromat 4X, 10X, 20X, 40X, S100X oil, these models will suit you well. Equipped with an Abbe Condenser that has a Numerical Aperture of 1.25, coarse and fine focus knobs with a stage lock and tension adjustment ring and a transmitted LED or Halogen light base that is auto-voltage sensing. The Trinocular model is equipped with a CMOS Digital HDMI/ USB 2.0 camera with a 11.8" HDMI monitor for easy capture and documenting images which can be saved directly onto the supplied SD card or PC.